Bounce Back Muscle Recovery Body Butter
Regular price
Sale price
$11.95 USD
Unit price
per
Sale
Sold out
A silky smooth body butter, infused with our signature Bounce Back blend of essential oils.
The OG Muscle Recovery formula also includes:

Orange oil - reduces muscular spasms
Wintergreen oil - 

promotes circulation

Peppermint oil - alleviates muscle aches
Eucalyptus oil - a natural anti-inflammatory
Camphor oil - relieves cramping; natural analgesic
Ingredients: Water, sunflower oil, soya oil, vegetable glycerin, stearic acid, cetyl alcohol, emulsifying wax, essential oils (orange, eucalyptus, peppermint, wintergreen, and camphor) palmitic acid, tocopherol, potassium sorbate, meadowfoam oil, jojoba oil, goat's milk, aloe vera, vitamin C, citric acid, Germall Plus, menthol crystals, colorant.
Share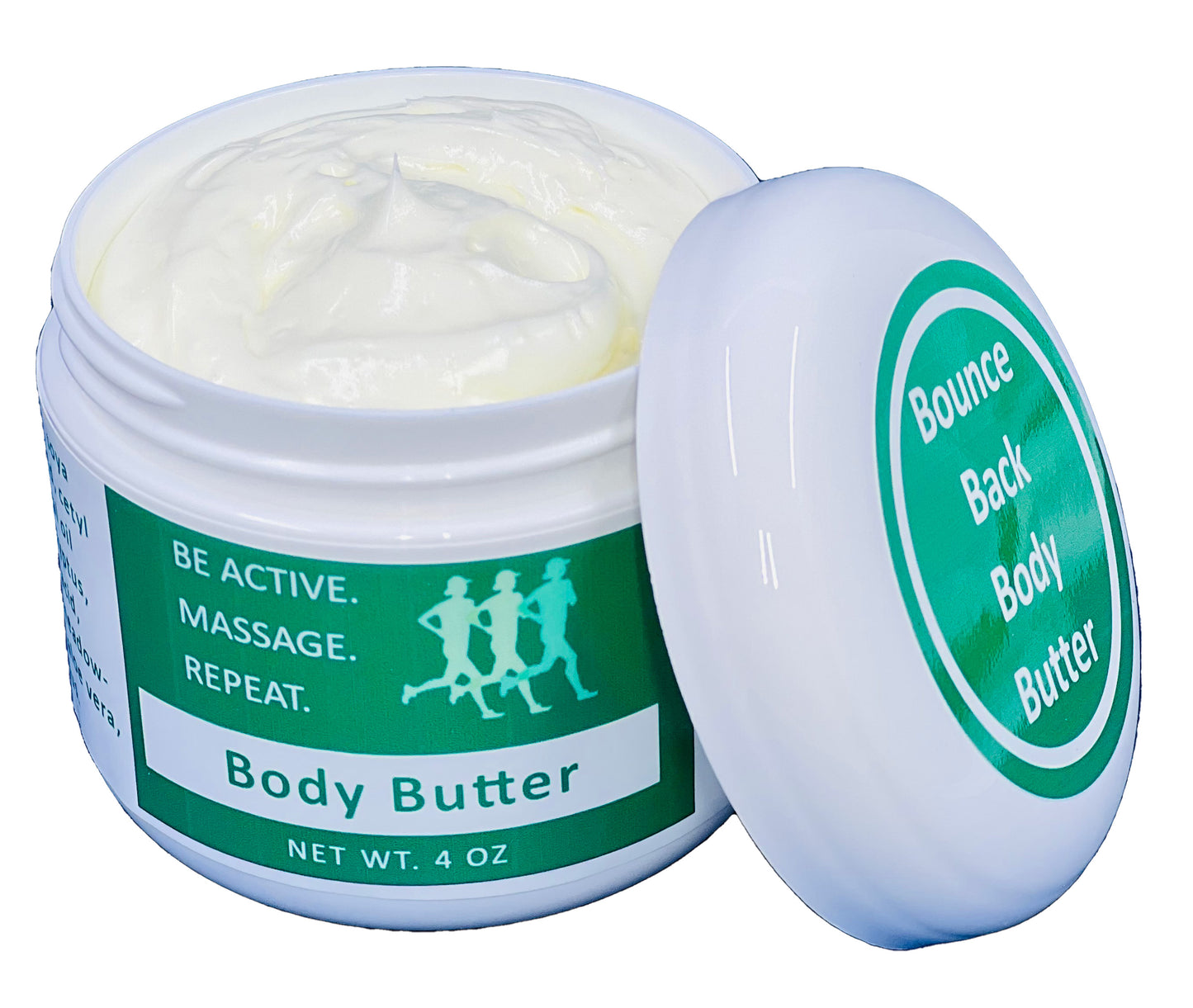 Great Recovery
The Bounce Back Muscle Recovery Body Butter is fantastic! It smells great and soothes the muscles. It does not leave me feeling slimy or sticky! Great product!
Powerful and effective
The bounce back muscle recovery body butter is excellent. First of all, the scent is soothing and calming, not annoying. My skin and muscles feel a difference immediately and it keeps working. It seems to penetrate to the muscles and helps. I've used it on various muscles and haven't been disappointed yet. I've primarily used it on leg muscles, neck, shoulder and back muscles. I even used it on finger muscles and ligaments. I had a pretty jammed finger injury a year ago that is still recovering and this helps so much. I purchased a large tub just to make sure I have what I need when I need it.
Fantastic cream
This cream is amazing. I was skeptical when reading the reviews- but thought I'll try it. I used it after running my first marathon and it was exactly what I needed for recovery.
Bounce Back Body Butter
I used this with the recovery fizzies after running the Dopey Challenge, the 5k, 10k, 1/2 Marathon and full Marathon. I was so pleased how I felt after using it, my legs felt so good and this was the first marathon I have done. Very Happy with it.
Love this stuff!!
I heard about Fluffy Fizzies on the Rise and Run podcast and decided to give it a try at my first Run Disney event. The Body Butter was amazing! I've used other similar products before but this was much nicer texture and pleasing smelling than anything I have used. Definitely helped my tired legs after the half marathon. I will be getting more at the next expo for sure!